Torque Dispatch is an innovative dispatch service provider that helps truck drivers reach their potential by providing them with the tools and resources they need to succeed
We created our company to provide our drivers with a reliable, professional, and consistent freight dispatch service. More than a dispatch service provider, we consider ourselves our drivers' partners. We're always looking to help their operations reach their full potential.
We plan a strategy for each of our drivers to help them grow their businesses in the long term. When you work with Torque Dispatch, you can rest assured that we will never settle for less of what we consider the minimum to provide efficient results.
The trucking industry is our passion. Created by truck drivers for truck drivers, we strive to fulfill every single need our associated drivers have. We help them grow their businesses and maximize their profits from day one by strategically planning the routes in advance, negotiating the best rates, providing them with 24/7 dedicated guidance and support, and assisting them in anything they need. We are professional in everything we do and always have our drivers' best interests in mind. In other words, we are the partner our drivers need.

Fill the contact form or call us

Upload your W9, COI or certificate of insurance and operations authority certificate
Sign out our dispatch agreement

You're ready to start the journey of growing your business
WE DISPATCH HOT SHOTS AND SEMI TRUCKS
$4.33 / Mile
Rate Conversion: $2,250
Commodity: Claas Variant 580 Baler
Baltimore, MD – Fort Recovery, OH
Rate: $4.33 – 519 Miles
05/24/22 – 05/25/22
$4.09 / Mile
Rate Conversion: $3,000
Commodity: DEUTZ-FAHR Tractors
Hurricane Shoals Ct, Dacula, GA – Winfield, PA
$4.09 – 732 Miles
03/31/2022 – 04/01/2022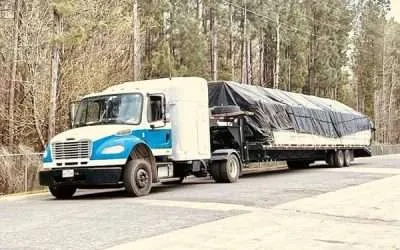 $4.48 / Mile
Rate Conversion: $4,600
Commodity: Insulated building panels
Little Rock AR – Suitland MD
$4.68 – 1025 Miles
04/01/22 – 04/11/22
"Very, very happy with everything so far in general. We've had multiple dispatchers in the past and they just don't understand how to keep you moving and they treat it like a 9 to 5 job. This is not a 9 to 5 job. Torque Dispatch gets that."
"Ever since we've been with them, my truck is making a lot more money than I used to before. As a matter of fact, this week we made more than $9,000. But it's been like that since we started with Torque Dispatch."
"They get things done. They're very honest, very punctual, the communication is there. We operate at a top-level here at Moneypenny Trucking and we expect top-level performance…"
What Are Household Goods in Trucking? Accordint to the FMCSA household goods are "personal items that will be used in a home". They include items shipped from a factory or store, if purchased with the intent to use in a home and transported at the request of the...